From: Norm Jacknis <norm@jacknis.com>
Date: Fri Nov 10 2006 - 15:35:30 EST
Surf 'n' ride: Access the Net in the car

By SARAH KARUSH, Associated Press Writer

Thu Nov 9

DETROIT - When Stephen Devine drove with his family from their home in
Massachusetts to New York City, he spent two frustrating hours trying to
find a place to park his 9-foot-high camper van, which won't fit in most
garages. In the end, his 17-year-old daughter found a place to park online -
and she didn't even have to leave the van to do it.

Devine's van is equipped with TracNet, a system that allows passengers to
access the Internet on a vehicle's video screens. Launched in September by
Middletown, R.I.-based KVH Industries Inc., TracNet brings the Internet to
the installed screens in a car, truck, RV or boat. It also turns the entire
vehicle into a wireless hot spot, so passengers can use their laptops to go
online.

Devine - who also purchased KVH's satellite TV system, called TracVision,
when he bought his camper a month ago - said the value of in-vehicle
Internet became obvious at that moment in New York.

"For me, that just paid for itself, because I was five minutes away from
going home," said Devine, of Hanover, Mass.

KVH also makes TracVision, which provides satellite TV service in vehicles
and boats; TracPhone, a satellite communications service for boats; and
precision navigation and guidance systems for the military. The company had
2005 revenue of $71.3 million, including $49 million in mobile satellite
sales.

While TracNet is still very new, KVH spokesman Chris Watson said there has
been interest from owners of recreational vehicles and boats. He also
predicted the service would be a hit with car services, which see it as a
way to provide a new convenience for customers.

But KVH believes the demand has the potential to be much wider. Watson cited
research by J.D. Power and Associates which found that more than half of
full-size sport utility vehicles, 40 percent of luxury SUVs and 40 percent
of minivans now come with video screens.

"Once a video screen shows up, people have a preference for live content,"
Watson said.

Art Spinella, president of Bandon, Ore.-based CNW Marketing Research, which
specializes in the auto sector, agreed.

"A large percentage of folks under 40 would like to have in-car access to
the Internet, rather than just on their cell phone or BlackBerry," he said.
"If it's priced right, there's a market."

The current price is $1,995 for the automotive version of TracNet. The
system operates on Verizon Wireless' high-speed network, which costs another
$60 to $80 a month. There is also a $10 monthly charge for MSN TV, the
service from Microsoft Corp. that brings the Internet to TV screens. The
consumer provides the screens.

An MSN TV portal provides access to e-mail, instant messaging, weather maps,
chat rooms, news and other features. While Web sites outside of the portal
are fully accessible, most are not formatted correctly for TV screens and
may not look quite right, even though the content is all there. Another
limitation is the system's dependance on the Verizon network: Where there is
no cell phone service, there won't be any Internet access either.

As with TracVision, TracNet can be used on a screen visible to the driver
only when the car is in park. When the vehicle is in motion, that screen
automatically switches to navigation.

Devine, 48, purchased TracNet for his camper van with both personal and
business uses in mind. He heads an architecture and construction management
firm and plans to put the camper at a job site for a contractor to live out
of.

"If he wanted to go online and e-mail us or look up some information," the
contractor would be able to use the TracNet system to do it, Devine said.

Robert Ramsden, of Key Largo, Fla., said he purchased TracNet for his boat
as a way to let him cruise more and still manage his business. The
67-year-old and his wife own four Intelligent Office franchises, which
provide "virtual office" services to businesses.

Previously, if the couple wanted Internet access on their boat, they would
have to pull into a marina and hope it had wireless access. TracNet has made
that unnecessary.

"It works really well," Ramsden said. "My wife and I both could be on the
boat with our laptops, and just log in, and use the wireless capabilities of
it."

But Ramsden said the idea of mobile Internet in a car wouldn't hold much
appeal for him.

"Our car is what we go back and forth to work in," he said.

Stephen Devine sits in his conversion van recreational vehicle in Hanover,
Mass., Monday afternoon Nov. 6, 2006 using his TracNet internet system made
by KVH in Middletown, R.I. TracNet is a mobile internet system for
automotive vehicles which uses amplified cellular telephone technology to
connect to the internet. Devine, an architect who owns several construction
related businesses, uses his system with his Verizon Wireless account for
both work and pleasure. (AP Photo/Stephan Savoia)

___

On the Net:

KVH Industries Inc.: http://www.kvh.com

http://news.yahoo.com/s/ap/20061109/ap_on_hi_te/autos_mobile_internet_1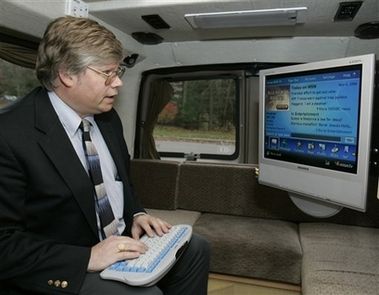 Received on Fri Nov 10 15:38:39 2006